Description
Glucerna Hunger Smart Creamy Strawberry Shake, 6 Count is a tasty meal replacement that aids blood sugar and hunger management.
Glucerna Hunger Smart Creamy Strawberry Shake, 6 Count is a convenient meal replacement that contains 15g of protein to help curb hunger. It also uses Carbsteady, a blend of slow-release carbohydrates that helps the body streamline blood sugar levels. Glucerna Hunger Smart is fortified with 25 essential vitamins and minerals, antioxidants, and 4g of fiber which help strengthen the immune system. This product is free of any lactose and gluten. It is the #1 doctor-recommended brand for people living with diabetes.
Abbott Nutrition has been providing quality nutrition supplements for a long time. Through research and development, their products have helped thousands. Each of their products are specially formulated depending on an individual's nutritional needs. Abbott Nutrition's mission has always been discovering and providing ways to achieve a full life through strengthening one's health.
Specifications:
| | |
| --- | --- |
| Serving Size | 10fl oz (296ml) |
| Calories per Serving | 180 |
| Cholesterol | 10mg |
| Fiber | 4g |
| Protein | 15g |
| Carbohydrates | 14g |
| Fat | 8g |
Label: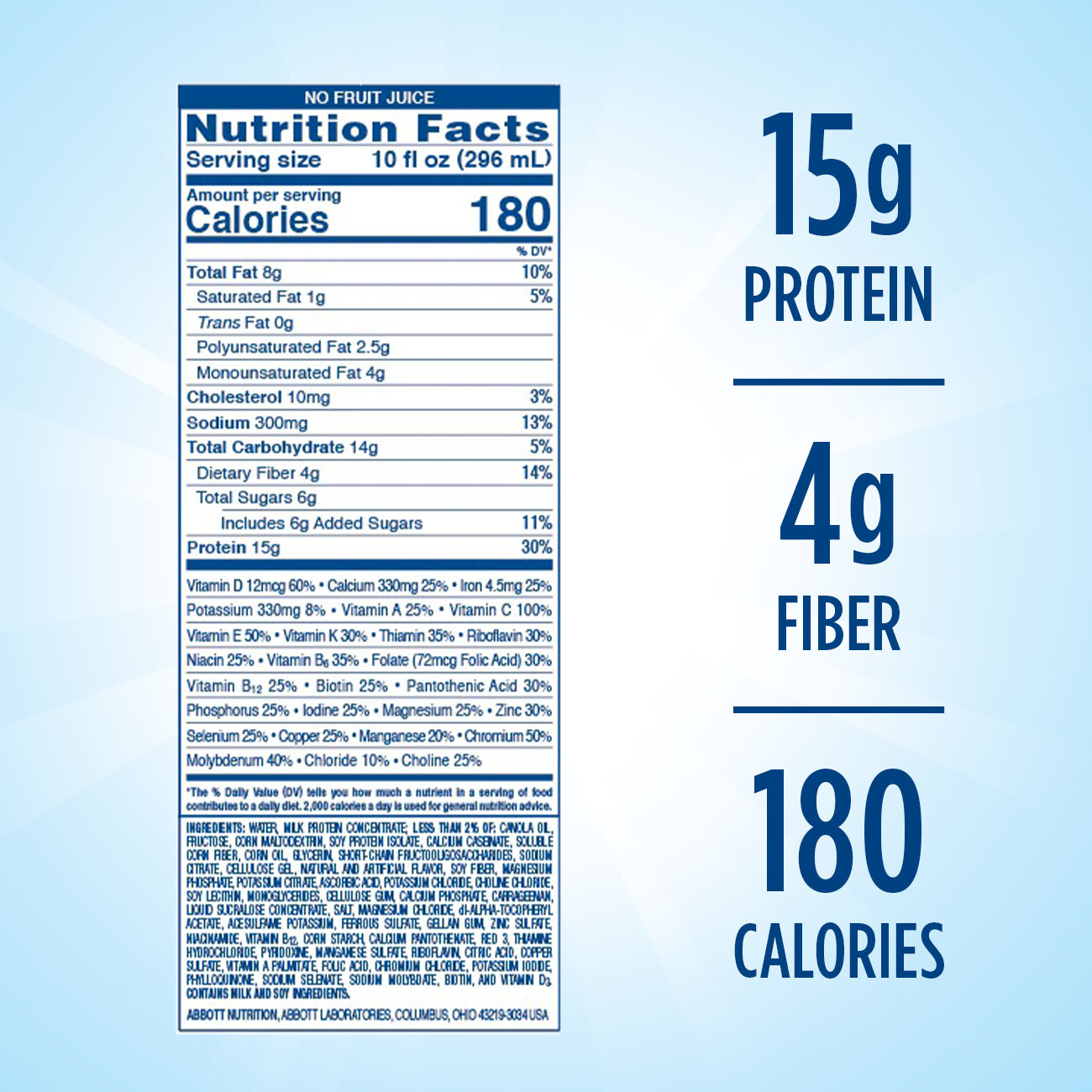 You can browse more Enteral products here at BuyMedical.com.
Shipping Info
Free Standard shipping on orders over $50. Most orders delivered between 3-5 business days.
Standard and Expedited shipping fees depend on weight. Please checkout to see rates.
FedEx Standard Overnight shipping available for most orders. Price depends on weight and location.
Same Day Processing available on most orders if placed before 1 PM EST. Restrictions apply. For additional info please see our shipping policy here.
Satisfaction Guarantee
If you are not satisfied with your purchase. Let us know! Most orders come with a 30 day money back guarantee. Please click
here
for more details.