The baby and youth category encompass different products made for the use of infants and children. As parents, we want to make sure all the needs of our children are taken care of. Baby and Youth offers you a place to see all those items and more.
Moreover, this category includes incontinence products like diapers, bed wetting supplies, toddler and youth training pants, and other similar products made for pediatric use. Now you don't need to worry about forgetting any of your child's essentials; it's all in one place. 
Some Categories Under Baby and Youth
Diapers and Toddler or Youth Training Pants
One of the first investments parents make when they have an infant is baby diapers. Disposable diapers used to be the option that the majority of parents went with, but now there has been a significant shift into reusable ones as well. What matters the most when it comes to these products is the absorbency of the diaper and the materials used to make sure the baby is protected from the moisture and is kept comfortable in order to prevent the occurrence of any skin lesions or rashes. 
Potty training also brings new developments into the kind of diapers a toddler needs. Training pants give that added security and protection for kids who are now learning to use the toilet. Important things to consider when buying training pants are the size and the style; pull-up pants are best for children who are at an active and mobile stage. For easier changes, refastenable sides would be more recommended. The right fit also ensures that the training pants will stay in place all day. 
Bedwetting Alarms
Bedwetting alarms are a helpful tool when you start potty training your child or even when they're a little older. These products are used as an effective and safe treatment for bedwetting. A sensor detects the presence of moisture and an alarm goes off at the start of urination. These alarms are designed to wake the child up so they can go to the restroom and finish urinating. At the start of this treatment, the parent's cooperation may be needed to wake the child up as soon as the alarm goes off. These work best when worn every night for 1 to 2 months.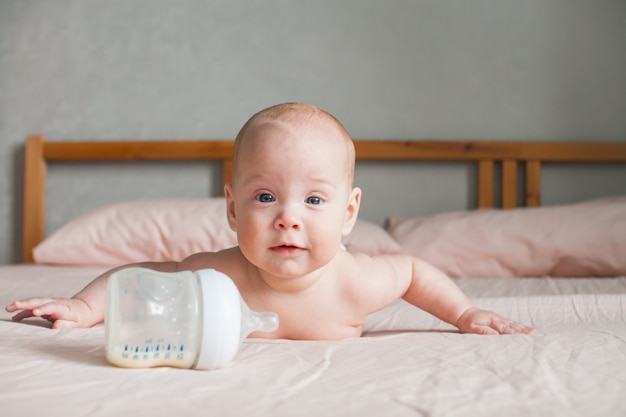 Infant Formula
An infant formula is designed as a supplement or alternative to breast milk when not available or sufficient. Many brands have created specific formulas designed for infants with gastrointestinal intolerance, allergies, and other conditions that affect food intake. 
Taking care of a child is not an easy job. You have a lot on your plate and the situation can become quite overwhelming. When you have the tools and items you need for your child, it lightens the load and gives you the peace of mind that you need. You will feel like you have prepared yourself for any scenario. From now on, it's bye-bye to bedwetting, leaks, and ill-fitted diapers, and hello to a happy and healthy child!