Description
Good Start Soothe 12.4 oz. Powder is an infant formula that eases colic, fusinness, and gas and is equipped with exclusive probiotics that has been clinically proven to reduce crying time by 50%.
Good Start Soothe 12.4 oz. Powder is an infant scientific breakthrough formulated to reduce crying time by 50% and colicky breastfed babies.Gerber has human milk oligosaccharide (HMO) that supports a healthy digestive system and boosts the immune system naturally. Gentle Soothe contains Probiotic L. reuteri, a probiotic that has been shown to reduce daily crying time in colicky infants within 1 week and help balance the good and bad bacteria. Gerber also contains DHA and ARA for brain and eye development. It is quite hard to break down proteins for babies that is why Gerber has Comfort Proteins that are designed to help avoid spit-up, fussiness and gas that is caused by whole protein intolerance. Gerber Good Start Soothe is made with high quality 100% whey protein partially hydrolyzed and is clinically shown to deliver a gastric emptying time similar to breastmilk at 30 mins.
Nestle Healthcare Nutrition is the world's largest food and beverage company that is present in 189 countries. Nestle is a company that wants to inspire each individual to live a healthier life and is creating products to enhance the quality of life and to contribute for a healthier future. With this, quality of their products and the safety of their consumers are the company's top priority.
Specifications:
| | |
| --- | --- |
| Serving Size | Per 5fl oz (prepared as directed) |
| Calories per Serving | 100 |
| Linoleic Acid | 900mg |
| Protein | 2.2g |
| Carbohydrates | 11.2g |
| Fat | 5.1g |
| Ingredients | Corn Maltodextrin, Whey Protein Concentrate (from Milk, Enzymatically Hydrolyzed, Reduced in Minerals), Vegetable Oils (Palm Olein, Soy, Coconut, High Oleic Safflower or High Oleic Sunflower), and Less than 2% of: Potassium Hydroxide, Calcium Chloride, Calcium Phosphate, Potassium Phosphate, Sodium Ascorbate, Sodium Citrate, Choline Bitartrate, 2'-O-Fucosyllactose*, M. Alpina Oil**, C. Cohnii Oil*** Citric Acid, Magnesium Chloride, Taurine, Nucleotides (Cytidine 5'-Monophosphate, Disodium Uridine 5'-Monophosphate, Adenosine 5-Monophosphate, Disodium Guanosine 5'-Monophosphate), Inositol, Ferrous Sulfate, Alpha-Tocopheryl Acetate, Mixed Tocopherols, Ascorbyl Palmitate, Zinc Sulfate, Niacinamide, Calcium Pantothenate, L-Carnitine, Copper Sulfate, Vitamin A Acetate, Thiamine Mononitrate, Riboflavin, Pyridoxine Hydrochloride, Manganese Sulfate, Potassium Iodide, Folic Acid, Phylloquinone, Biotin, Sodium Selenate, Vitamin D3, Vitamin B12, Soy Lecithin, Lactobacillus Reuteri (DSM 17938) Cultures |
| Potential Allergens | Contains Milk and Soy |
Label: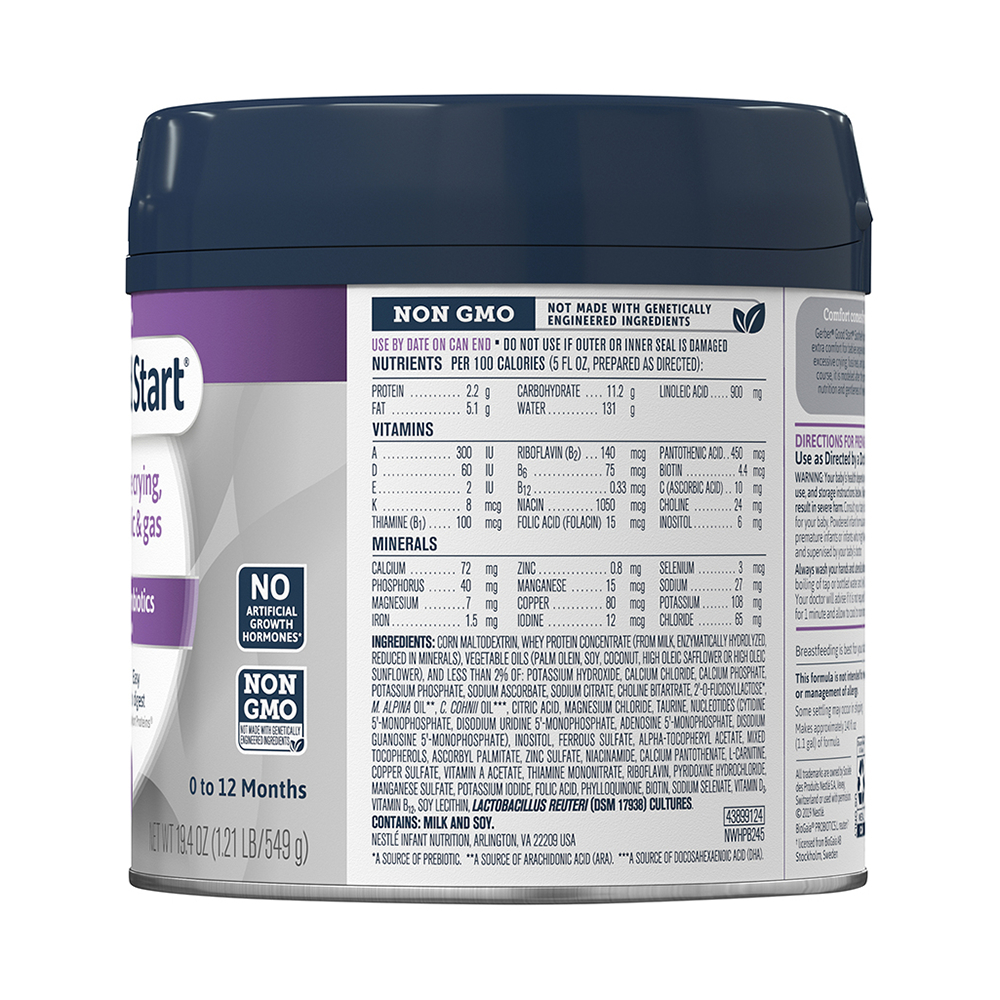 You can browse more Enteral products here at BuyMedical.com.
Shipping Info
Free Standard shipping on orders over $50. Most orders delivered between 3-5 business days.
Standard and Expedited shipping fees depend on weight. Please checkout to see rates.
FedEx Standard Overnight shipping available for most orders. Price depends on weight and location.
Same Day Processing available on most orders if placed before 1 PM EST. Restrictions apply. For additional info please see our shipping policy here.
Satisfaction Guarantee
If you are not satisfied with your purchase. Let us know! Most orders come with a 30 day money back guarantee. Please click
here
for more details.